When life gets chaotic, I find that one really helpful thing to know is that dinner is taken care of. And by "taken care of," I don't necessarily mean takeout or cereal! We've all been there, but it's not ideal – I would way rather have a genuine, home-cooked meal ready to go.
The solution? Freezer cooking! Cooking real food and storing it in your freezer is a wonderful way to nourish your family, even when you don't have time to cook. Also, you don't have to set aside a ton of time to make all kinds of labor-intensive recipes, either.
My favorite way to cook for the freezer? Doubling a recipe that I'm already making for dinner, and freezing half. So simple!
What Dinners Are the Best to Freeze?
Okay, so you may be aware that some foods (unfortunately) just don't stand up to freezing and thawing very well – think watery vegetables and fruits, creamy sauces, and cooked salmon. These foods suffer in the freezer, because the water in them turns into ice crystals. When those crystals melt, they leave the food mushy, deflated, and dripping with moisture.
Not good.
But, other foods freeze beautifully, and reheat to be just as good – if not better – as the day you made them! In this category are hearty items like most meats, casseroles, stews and soups, and baked goods, like muffins and cookies. Lots to choose from, and lots to love!
How Do You Prepare Meals for the Freezer?
Each dish may have its own special instructions, such as freezing certain items separately. In general, though, there are a few important rules you should know:
Let the Food Cool Down. Freezing hot food can cause some issues, so it's usually best to let your food cool to room temperature before packing and freezing.
Keep the Air Out. Air is the enemy of frozen food, leading to freezer burn. To avoid freezer burn, make sure to press out as much air as possible before sealing your bags, or fill food containers almost to the top before adding the lid. If using plastic wrap or foil, wrap foods very tightly, avoiding air bubbles. Note that if you are freezing liquids you need to leave 1 inch of room at the top of your container so that the food has room to expand in the freezer.
Mark with the Recipe and Date. It's best to rotate your frozen food, so that good leftovers aren't forgotten in the back of the freezer! That's why I recommend marking each item with the date, the name of the recipe, and any special instructions for reheating. When it's time to make dinner, you have all the information you need, and you can easily use your older leftovers first.
Consider Flash Freezing. You know how sometimes you buy frozen veggies or frozen meat, and the food is all separate, rather than frozen in a large chunk all stuck together? You can achieve the same results by flash-freezing certain items. Just place them on a baking sheet, not touching, and freeze until frozen solid. Then, pack the frozen items in freezer bags, and you're good to go! Frozen baked goods and frozen vegetables are great this way.
Can Freezer Meals Be Healthy?
Definitely! I mean, I've seen my fair share of frozen and make-ahead meals that were loaded with processed ingredients, but it doesn't have to be that way. One of the main benefits to freezer cooking for yourself is that you are in control. You can make your freezer meals gluten-free, low-carb, high in healthy fats – whatever your healthy lifestyle needs to look like, you can build that into your stash of freezer meals.
Ultimately, this benefits you not only on the healthful side of things, but also in terms of money and time. It's no secret that purchasing convenience foods, restaurant meals, and/or fast food can be super expensive. And unfortunately, you're often paying more for poorer quality food! By having some freezer meals on hand, you can avoid spending extra on food that doesn't fit your lifestyle goals!
I can hear you now, saying, "But, Katerina, how can freezer meals save me time? It's so quick and easy to pick up a frozen pizza on the way home, and much quicker than making my own freezer meals." I know, I hear you! But, trust me, the time you save with freezer cooking is real. Because, if you're anything like me, when you don't already know what's for dinner, it can be a real drain on your time to figure it out at the last minute.
Whether you end up rifling through the cupboards hoping there's something in there to pull together, or running to the store without a game plan and hoping for the best, it's not very efficient in the long run.
20 Healthy Freezer Meals to Stash for a Busy Day
So, without further ado, let me introduce 20 of my all-time favorite freezer meals! This varied and colorful collection has a little something for everyone, and each recipe is guaranteed to freeze and reheat beautifully. You'll find everything from scrumptious Pork Carnitas Tacos to comforting Chicken Noodle Soup.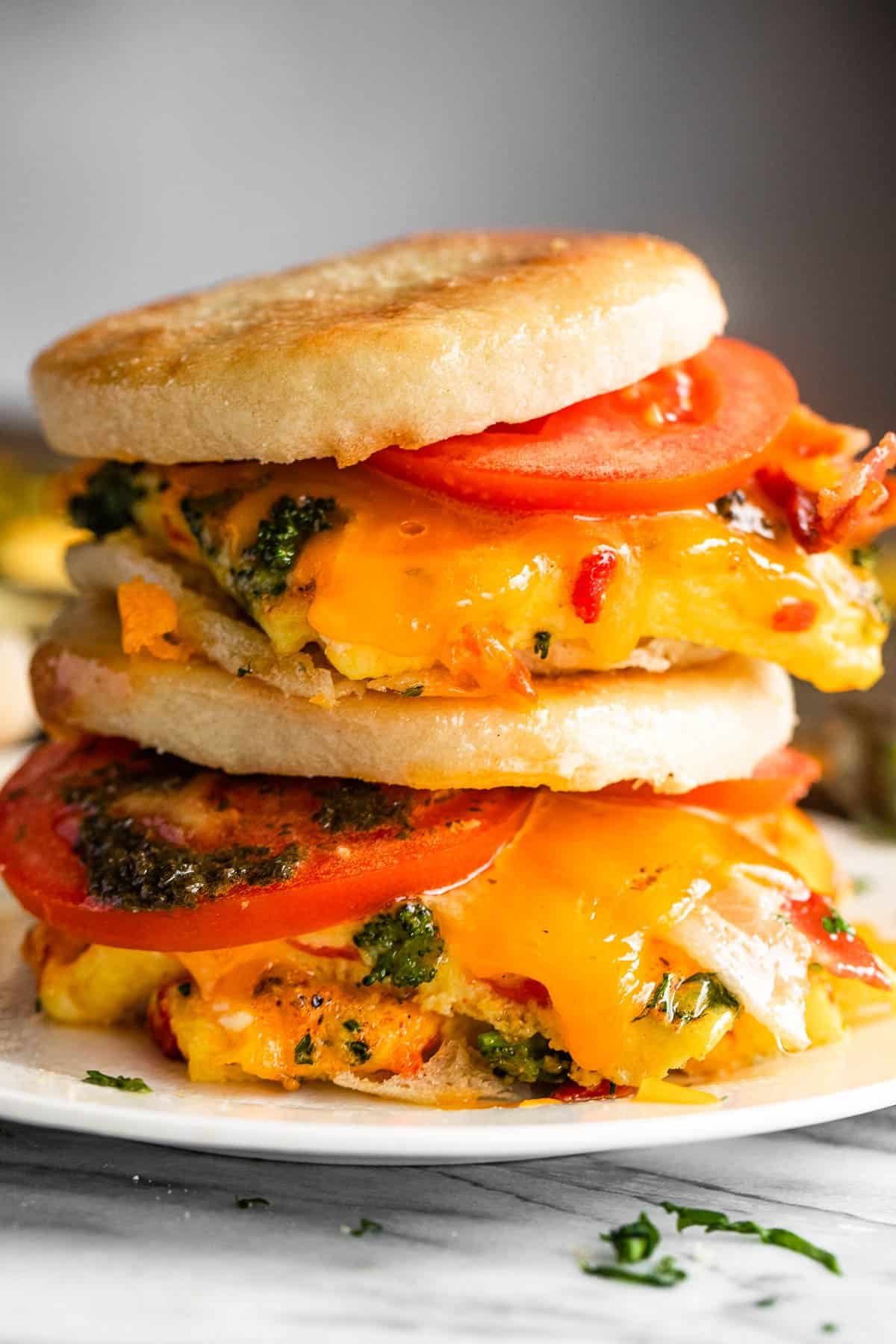 Freezer Egg Breakfast Sandwiches
Split and toasted English muffins are piled with bacon, eggs, and nutritious veggies in these classic breakfast sandwiches. A slice of cheese and dollop of pesto adds tons of flavor and healthy fat. Perfect for a hearty breakfast-on-the-go, no drive-thru line needed.
Easy Chaffles (Low Carb Waffles)
Another breakfast favorite, these easy "chaffles" are the keto-friendly version of homemade waffles, made with cream cheese, eggs, and almond flour to create a satisfyingly bread-like texture, without the carbs.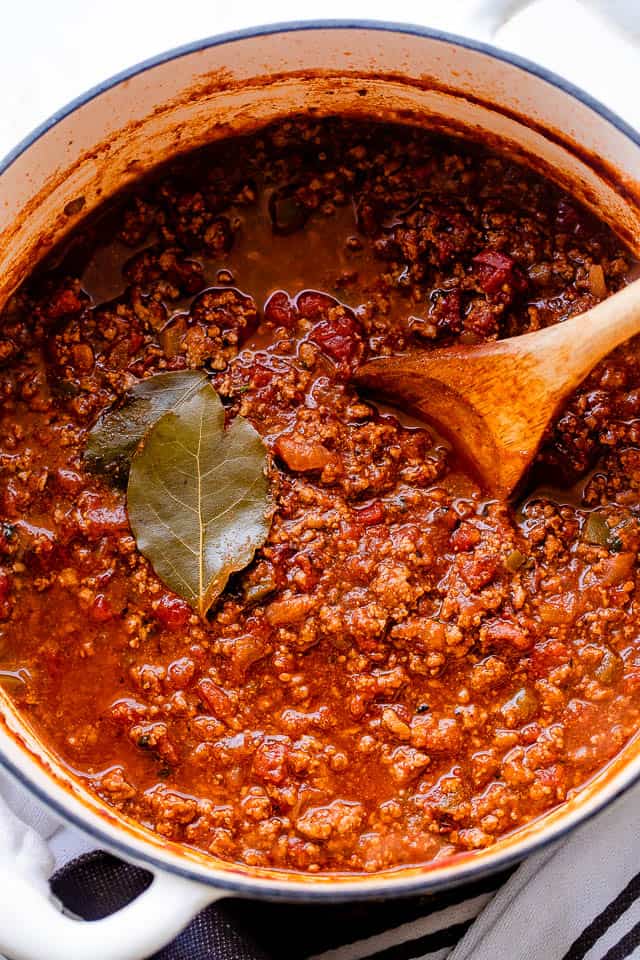 Texas No Beans Chili
This recipe is seriously the best! Just take a peek at the reviews! It's a hearty, meaty, one-pot meal that you can use a ton of different ways. Serve as-is with a dollop of sour cream and some crunchy crackers, or spoon over your favorite grass-fed hot dogs for a fabulous chili dog dinner. You could even serve it with pasta, Cincinnati chili-style!
Easy Black Bean Burgers
This simple vegetarian favorite makes a hearty lunch or dinner, served on your favorite burger buns with your toppings of choice. They're a healthy meatless option that's perfect for stashing in the freezer!
Juicy Garlic Butter Pan-Fried Chicken Breasts
You don't always have to make a full meal for your freezer – sometimes, just having some healthy protein on hand is all you need. This juicy, well-seasoned chicken is great for freezing, and can be used in all kinds of quick recipes!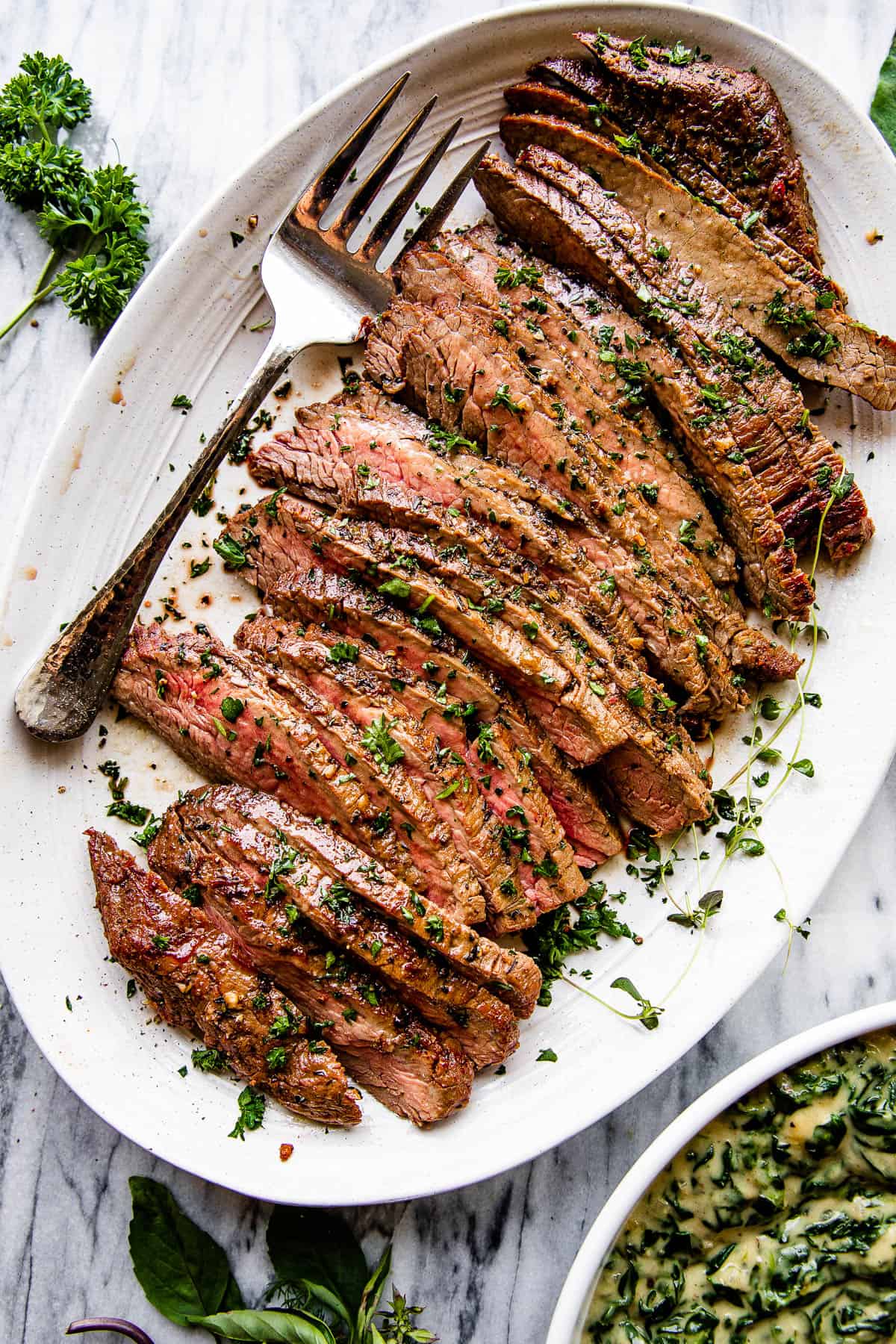 Marinated London Broil
Marinated in a killer blend of herbs, spices, Worcestershire sauce, fresh garlic, soy sauce, vinegar, and honey, this mouthwatering broiled steak makes a hearty meal for the whole family.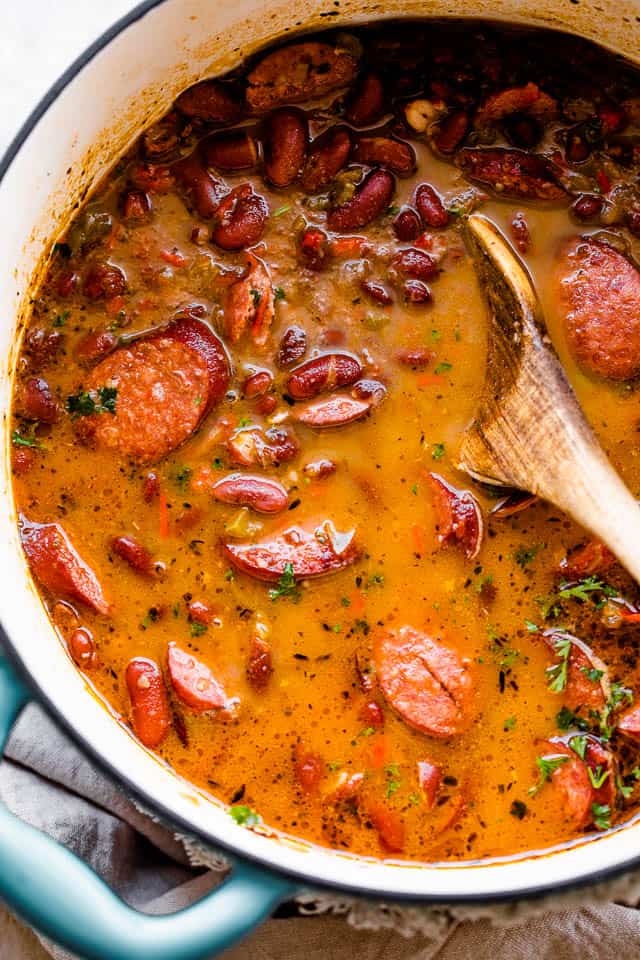 Louisiana Red Beans and Rice
Let the good times roll! This classic recipe for savory red beans and sausage in a thick, spicy gravy is crazy-good comfort food. Serve over hot rice, and you've got one satisfying supper.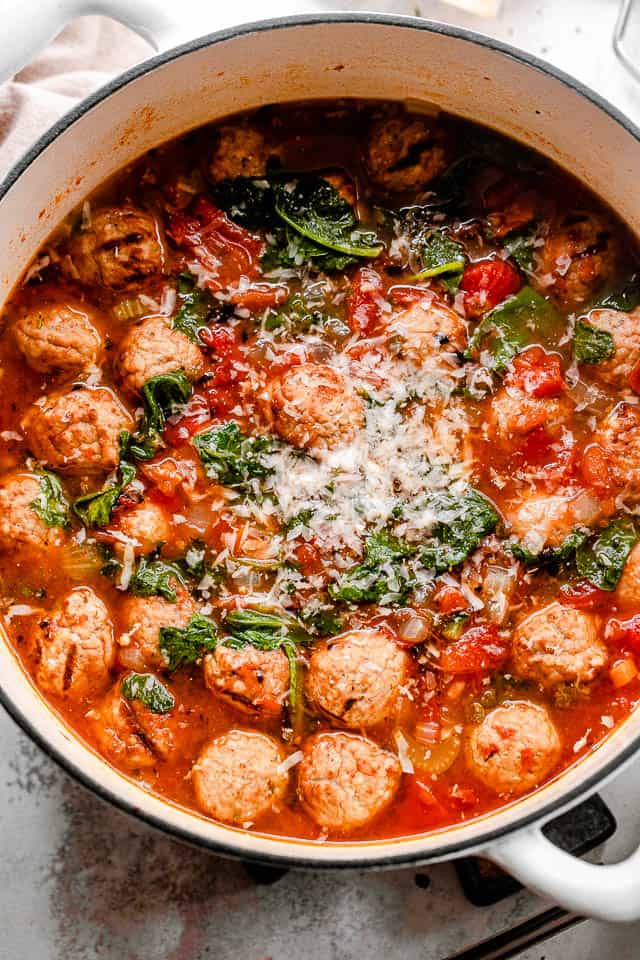 Meatball Soup
Who could resist tender meatballs and classic veggies, seasoned to perfection and swimming in a rich tomato broth? This easy low-carb meatball soup recipe has all of that and more – perfect for a healthy, easy meal.
Easy Chicken Tikka Masala
All aboard for this curry-tastic favorite! Luscious chunks of chicken are marinated in yogurt and spices before being lightly charred and simmered in a rich, curry-flavored tomato sauce. It's a creamy, flavorful dinner that's sure to please.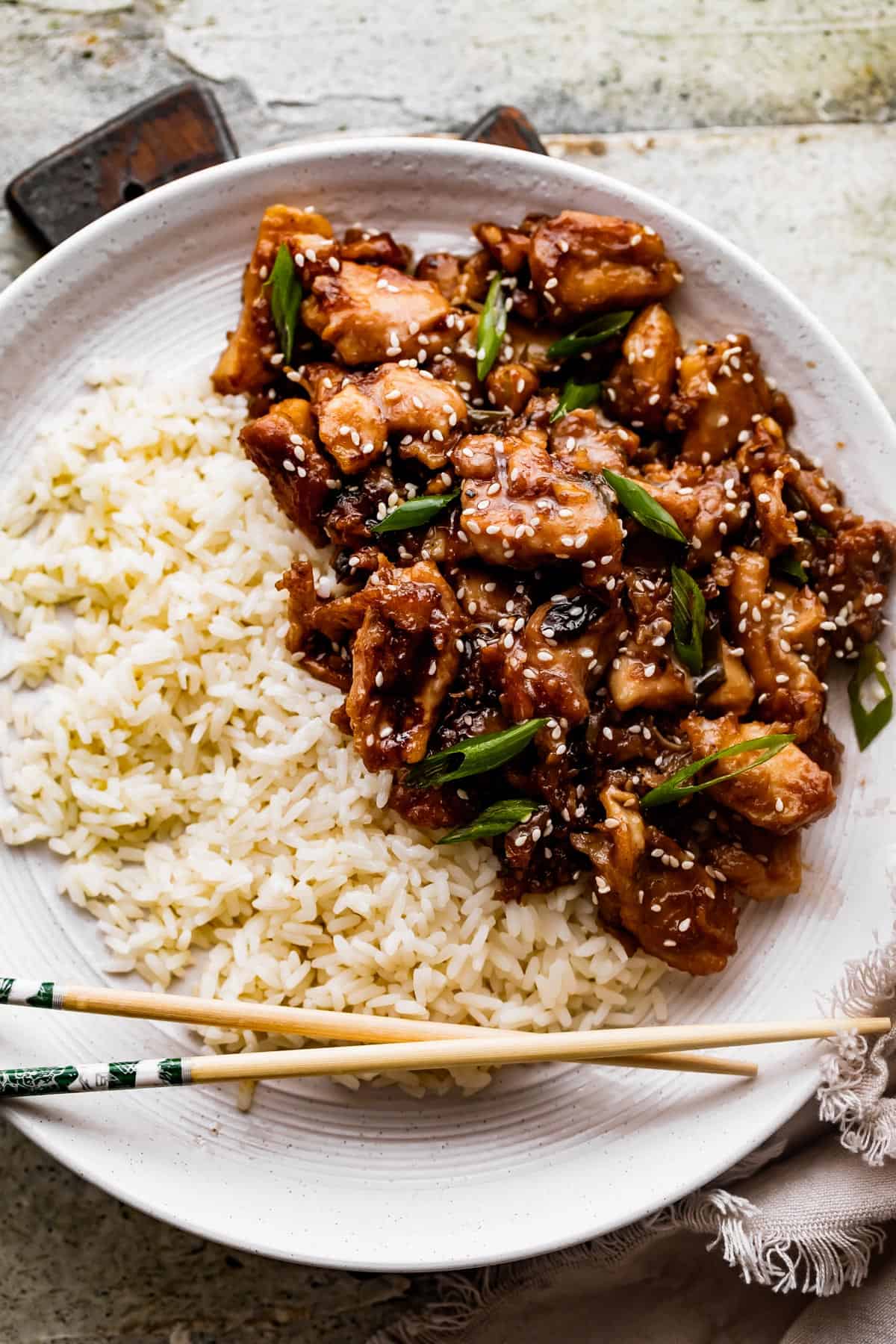 Easy Bourbon Chicken
This sweet and savory Cajun-style favorite is notoriously delicious – but you don't have to hit the mall in order to enjoy some! Make this easy homemade version. It uses natural, wholesome ingredients and takes very little time.
Crispy Baked Falafel
Tender, flavorful falafel are made with garbanzo beans, tahini, garlic, and lots of other goodies! They freeze beautifully and can be eaten with dips, on sandwiches, and alongside your favorite chopped salads.
Quick Easy Coq Au Vin
This French classic gets an easy makeover with boneless, skinless chicken thighs. Marinated in wine and cooked with a medley of bacon, mushrooms, and onions, this satisfying dish is perfect for serving a home-cooked meal that tastes like it took all day – right out of your freezer.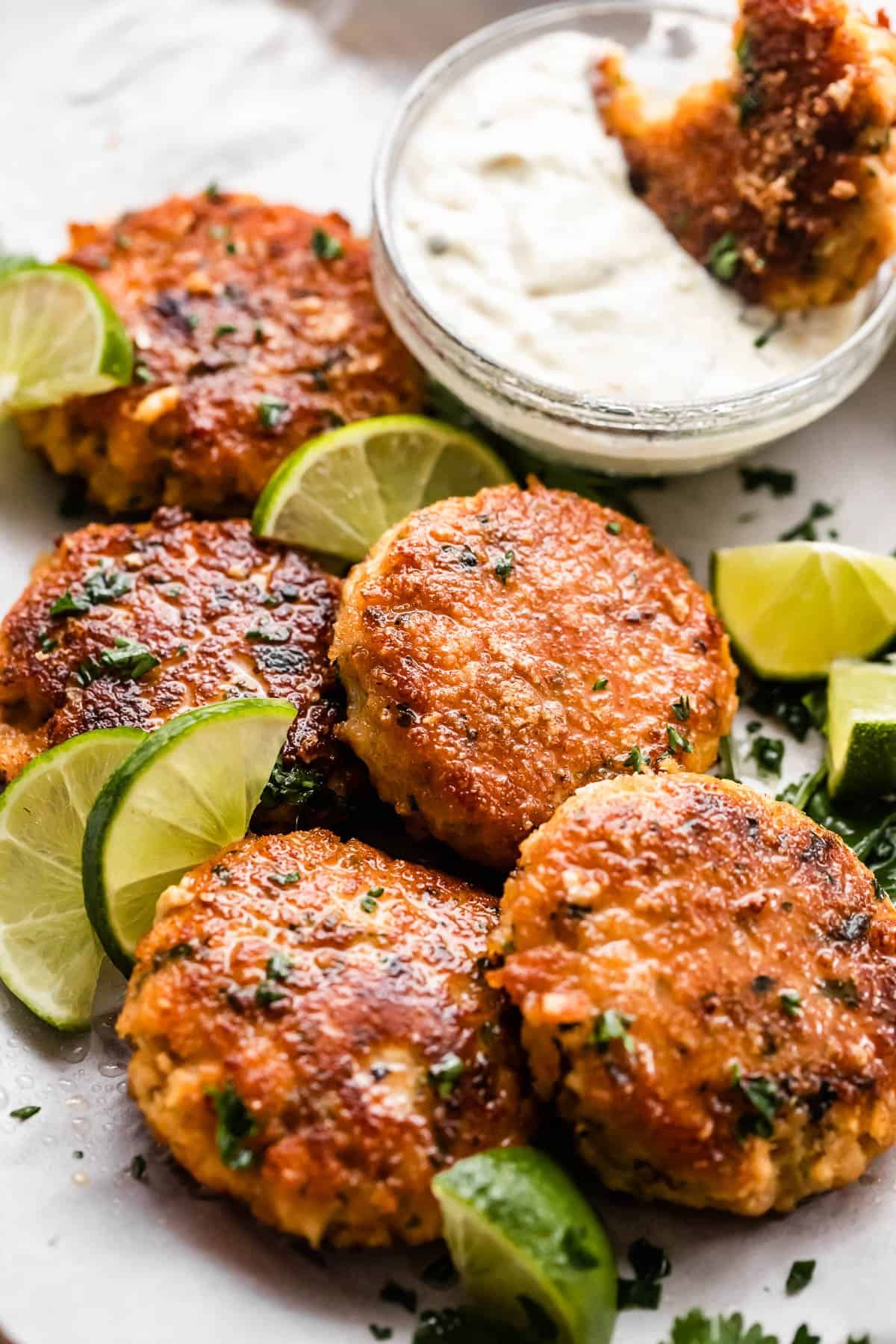 Crispy Air Fryer Fish Cakes
I love, love, love these crispy little fish cakes, sometimes called "croquettes." White fish fillets give a tender result, and you can serve them with just about anything: creamy pasta, fresh salad, roasted veggies… or, just eat them on a sandwich bun with mayo, and call it good! Whatever you choose, you gotta try these crisp and crunchy fish cakes, flavored with sweet chili sauce and fresh cilantro.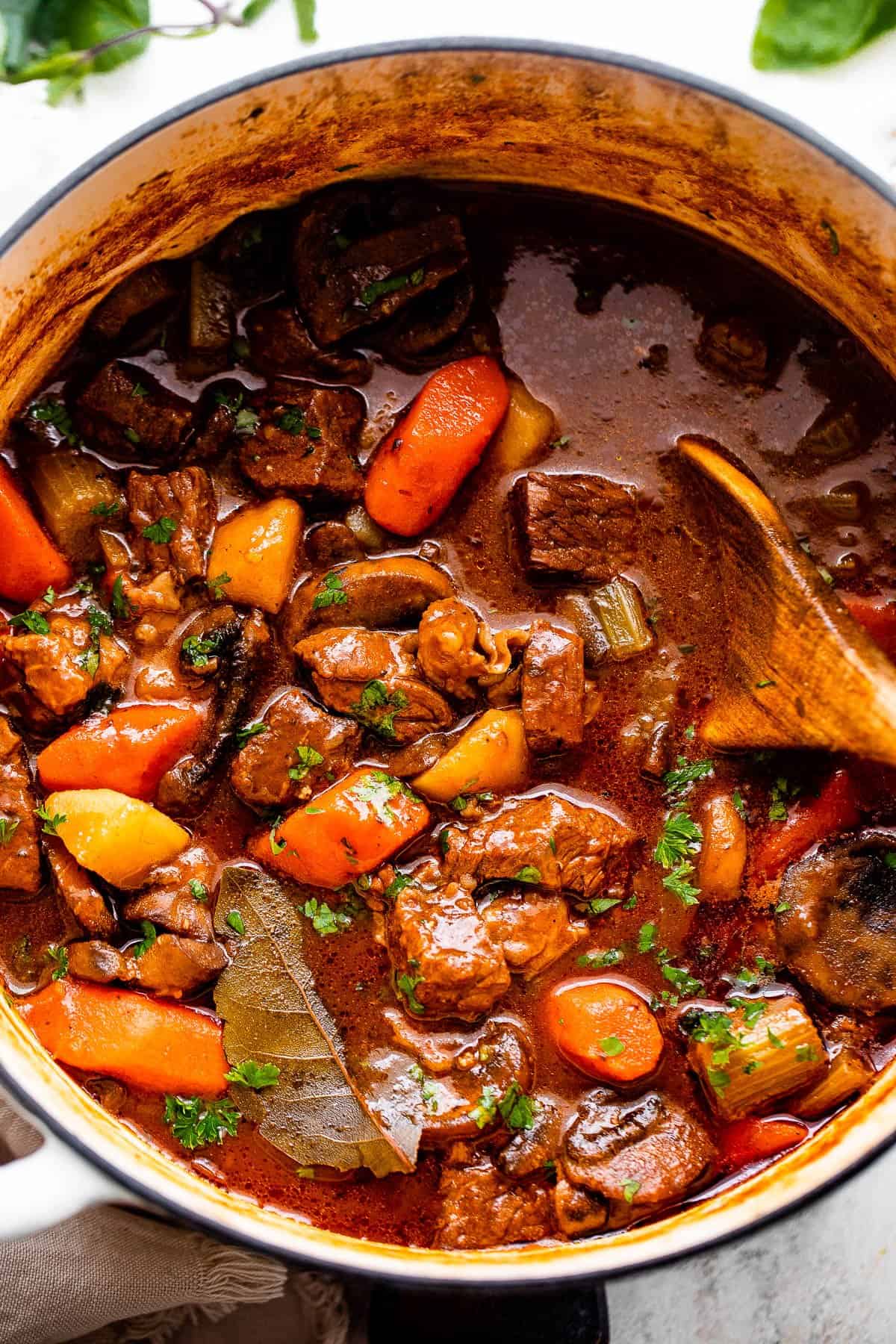 Irish Guinness Beef Stew
Made with real Guinness beer, this savory stew contains tender chunks of beef, potatoes, carrots, and mushrooms, all in a thick brown stew that'll stick to your ribs and warm your heart. This one's a keeper!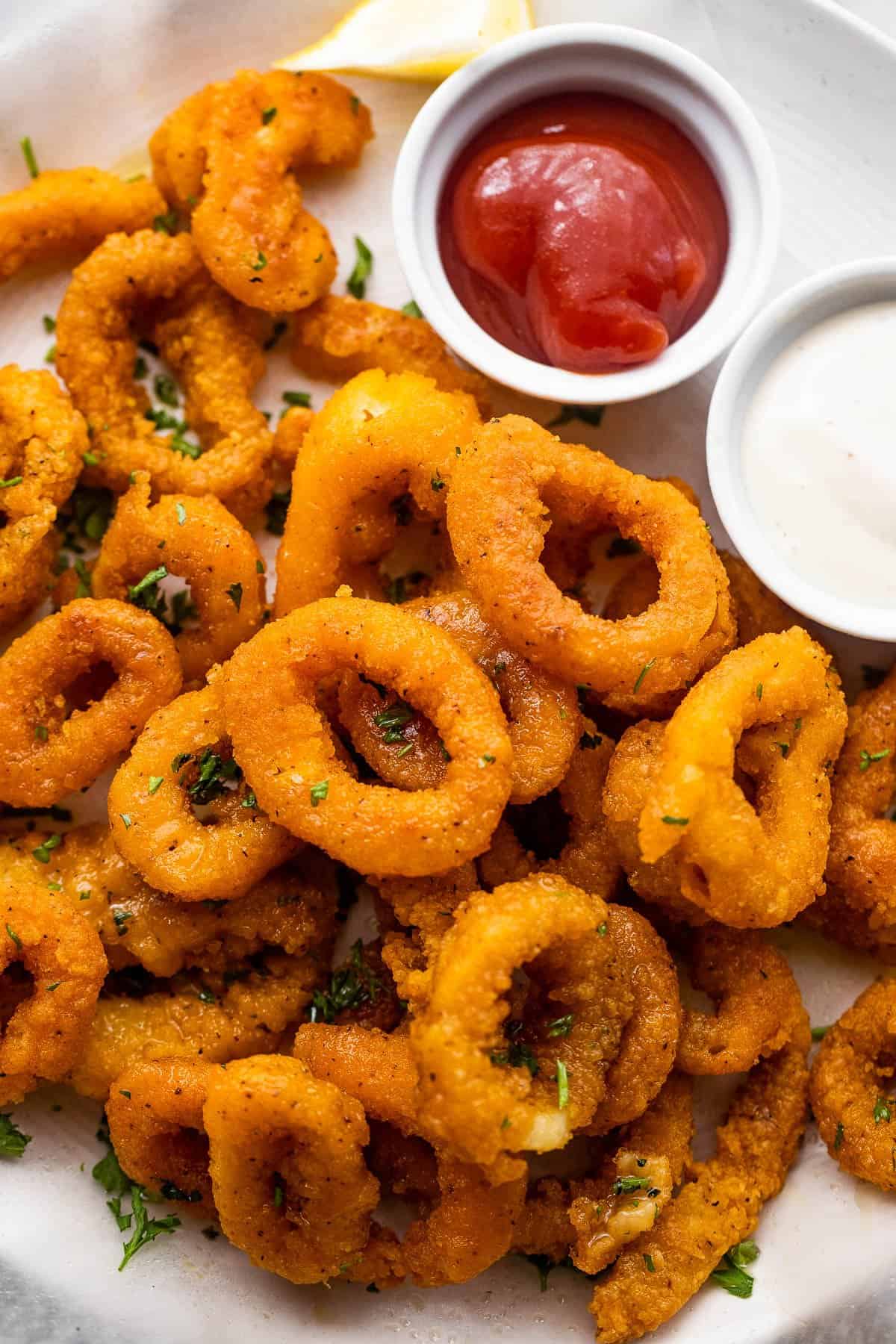 Air Fryer Fried Calamari
Crispy, crunchy rings of succulent calamari, soaked in buttermilk and fried to perfection? Yes, please! And with this easy air fryer recipe, making these golden-brown fried rings is so easy, with hardly any oil! Be sure to make double, because this recipe is seriously addictive!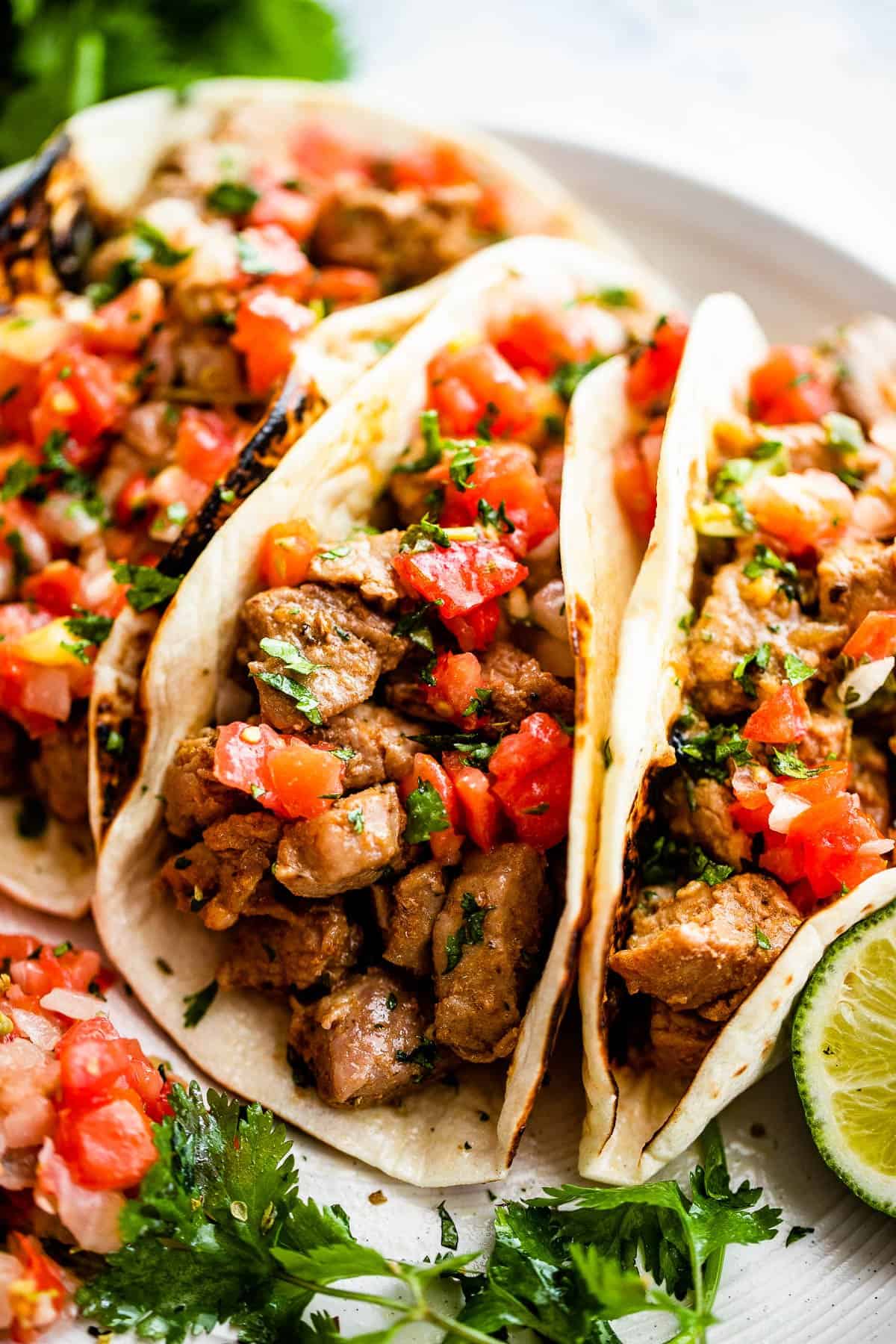 Quick Pork Carnitas Tacos
Tender chunks of pork are cooked with orange juice, lime juice, garlic, and ancho chili powder to make a mouthwatering protein option for tacos, burrito bowls, and more! This one's a crowd-pleasing, flavor-blasting favorite!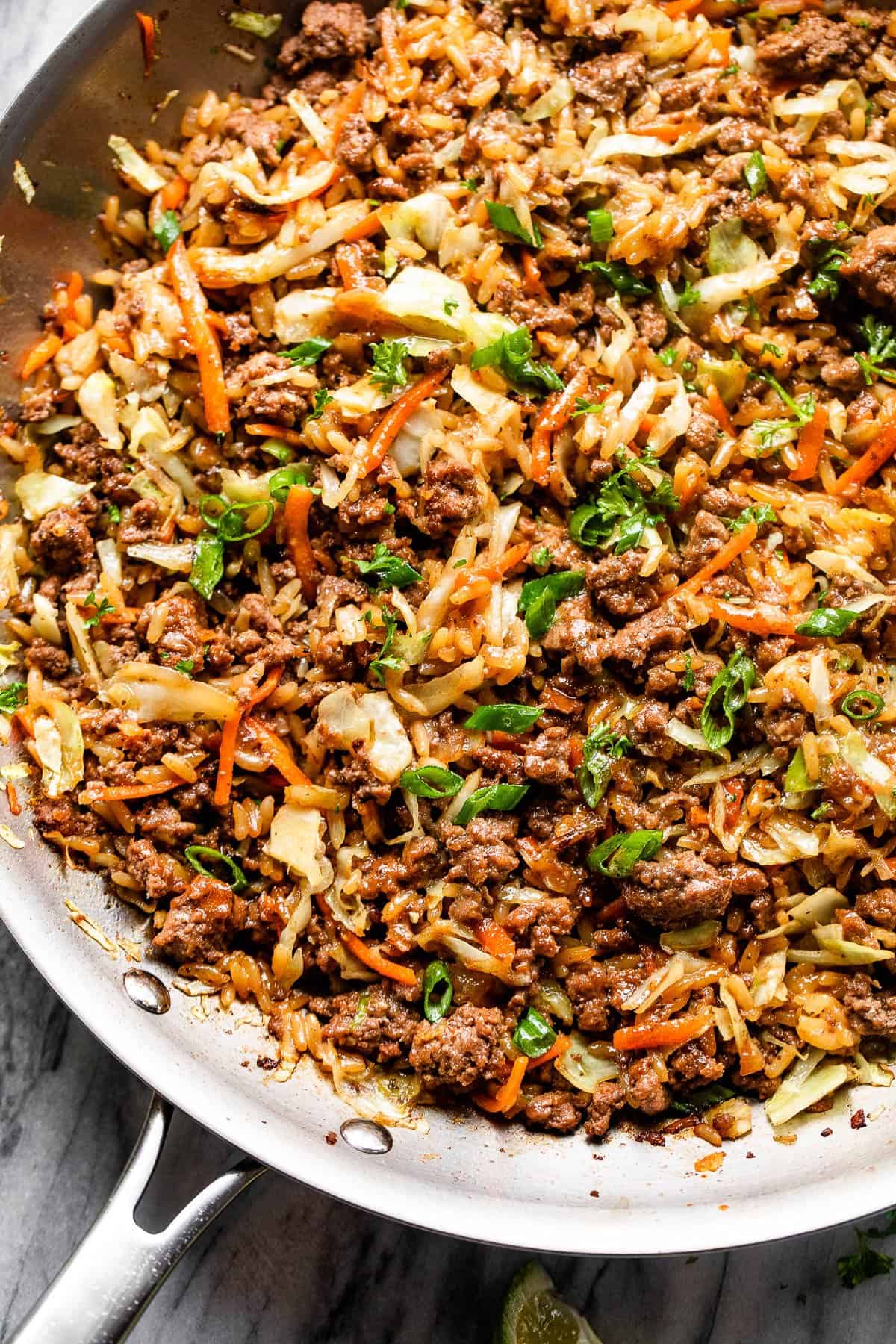 Skillet Egg Roll in a Bowl
Crisp-tender shredded cabbage and ground beef are the base of this deconstructed egg roll dish! Yummy Asian peanut sauce and a little bit of soy sauce give it that classic takeout taste while rice, onions, and and fresh garlic boost add texture and flavor.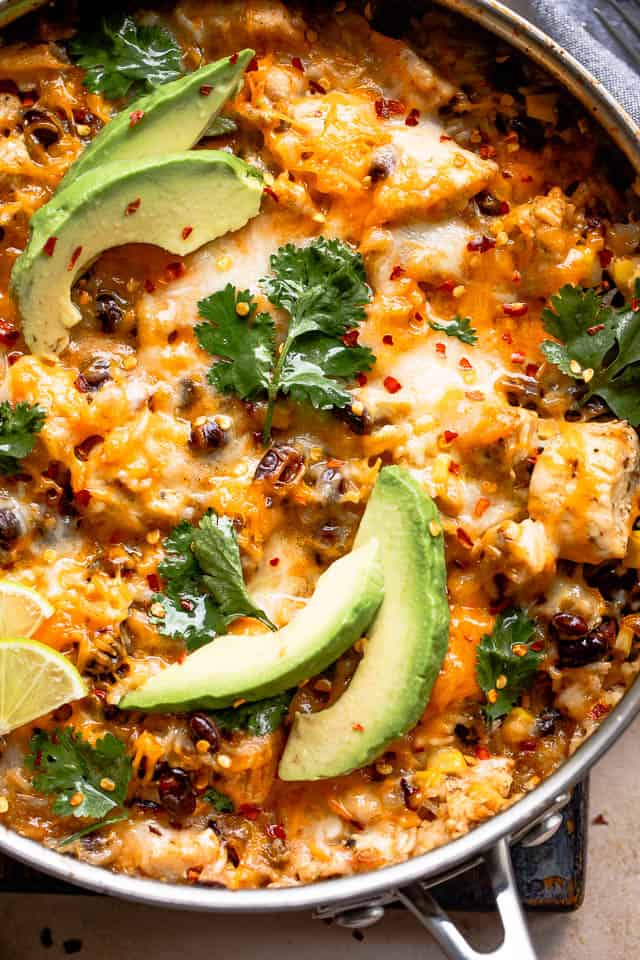 Salsa Verde Chicken and Rice Casserole
The secret ingredient to this amazing casserole is tomatillo salsa, or salsa verde. Full-flavored with tomatillos, chilies, and spices, salsa verde goes beautifully with chicken breast, black beans, tender rice, and cheese. This crowd-pleasing casserole is full of Tex-Mex flavor!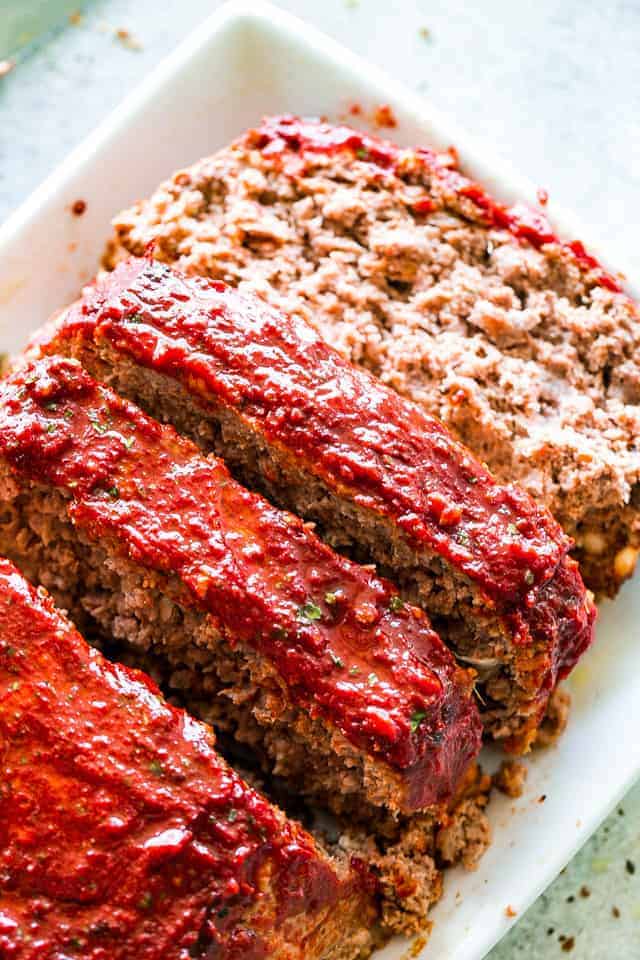 Easy Meatloaf Recipe
An American classic, this tender and moist meatloaf is topped with a tangy ketchup-like glaze. It's ultra-easy to make and freeze, and works beautifully as a main course, or to make hearty meatloaf sandwiches. Yum.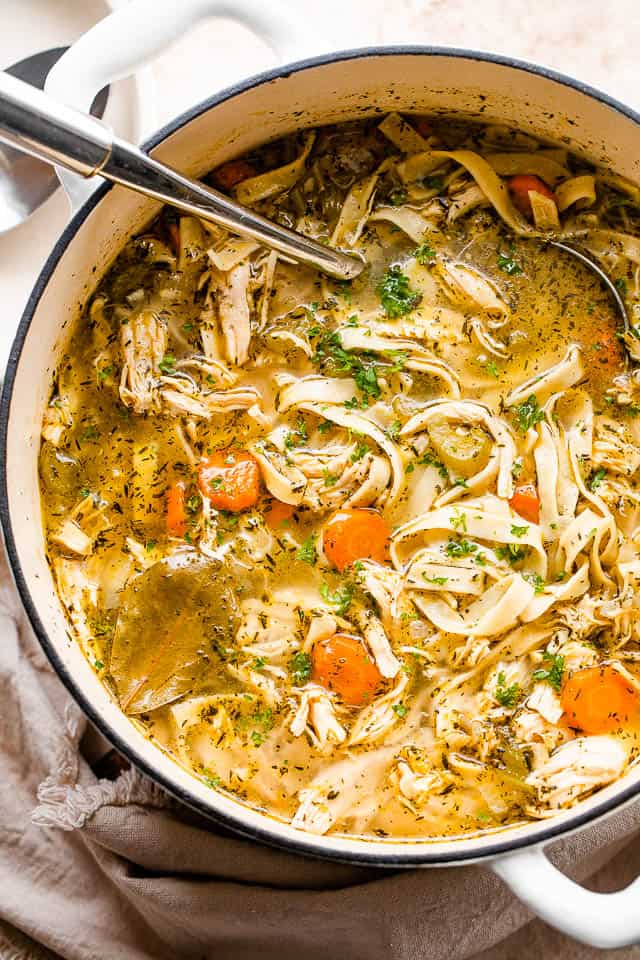 Chicken Noodle Soup
This traditional recipe for chicken noodle soup is made with plain, wholesome ingredients: onions, carrots, celery, bone-in chicken, noodles, and garlic. It's a flavorful, old-fashioned chicken soup that's healthy and comforting.